What is …?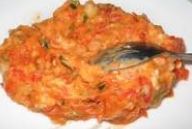 Tempoyak is a Malay condiment made from fermented durian. It is usually consumed by the ethnic Malays in Maritime Southeast Asia, notably in Indonesia and Malaysia. Tempoyak is made by taking the flesh of durian and mixing it with some salt and kept in room temperature for three or five days for fermentation. Tempoyaks are usually made during the durian season, when the abundance of durian and excess production are made into fermented tempoyak.
Tempoyak is not normally consumed solely, it is usually eaten as condiment or as an ingredient for cooking.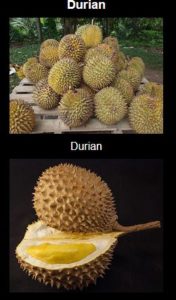 Durian is named in some regions as the "king of fruits". The durian is distinctive for its large size, strong odour, and thorn-covered rind. The fruit can grow as large as 30 centimetres (12 inches) long and 15 cm (6 in) in diameter, and it typically weighs 1 to 3 kilograms (2 to 7 pounds). Its shape ranges from oblong to round, the colour of its husk green to brown, and its flesh pale yellow to red, depending on the species.
To see more products from Halal Street UK, click the link below.